Eric told me to pick anywhere in London for him to take me for my 25th Birthday present, so when I read about the Mad Hatter's Tea Party held every day at the Sanderson Hotel in Fitzrovia, it was an easy decision.
We arrived to a quirky table laid out with old books, jewellery boxes, napkins wrapped in riddles, vintage silver tea strainers and specially crafted bespoke crockery by Luna & Curious, the design collective who designed the tea in collaboration with the hotel.
Our server brought over a silver tray of little vials, filled with handcrafted specialty teas. We picked the mint choc chip brew, but the rhubarb and custard smelled equally delicious… perhaps that one for next time.
Our tea stand came out, filled with fun sweet and savoury goodies. The sandwiches were very different – egg salad on lemon bread, smoked ham on sundried tomato bread… The daily quiche was aubergine and courgette and there were also savoury olive scones with herb butter.
The sweets were the real highlight however – double chocolate scones with jam and cream took the bottom tier, and the top was filled with little artisan marshmallow toadstools and carrot meringues hidden in a teacup filled with peashoots.
Traditional Victoria sponges were shaped and decorated like clocks, and 'Drink Me' potions were served in tiny jars, filled with layered passionfruit jelly, coconut pannacotta and mixed berry foam.
The melting mango cheesecake shocked Eric, as he ate most of the creamy, white chocolate rainbow cake before he unexpectedly hit the mango part – an 'egg yolk' that once punctured with your knife spilled mango puree all over your plate.
There were little chocolate teacups filled with Matcha Green Tea and white chocolate mousse, dusted with popping candy and topped with a pink white chocolate flower. I laughed at all the ways people were eating them – scooping out the mousse, then eating the tea cup, breaking it all up daintily, or like one girl – holding it by the handle and smashing it on her plate.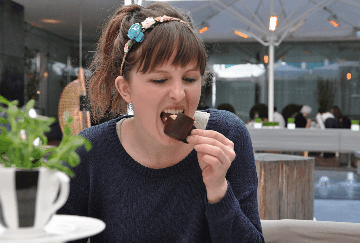 We were starting to feel the effects of the sugar now, so we ordered a few more ham sandwiches to balance us out before we hit the last part – the artisanal jelly trolley.
It was one of the best Afternoon Teas I have ever had – and I make it a point to Afternoon Tea whenever I can. I loved the quirky nature, and unlike most themed teas the theme made its way into the decorations, food, style and even the sugar bowls.
The Mad Hatters Afternoon Tea is served daily 12:30-5:30PM at the Sanderson Hotel, 50 Berners St London UK. The tea costs £38 (roughly US$75) per person plus a discretionary 15% gratuity added automatically to your bill.